In a world that has never truly atoned for the sins of slavery, enters TRUBONE, a man of an indeterminate age…a gifted storyteller, profound and irreverent, he tells it like it is because it was what it was!

He takes you on a journey from the slave ship to the auction block, from the sun-drenched cotton fields of the Deep South to the bloody battlefields of the Civil War and World War I.

Are these the rantings of a delusional old man? Or the inspired recollections of a man preserved by time to rewrite history without pause or apology!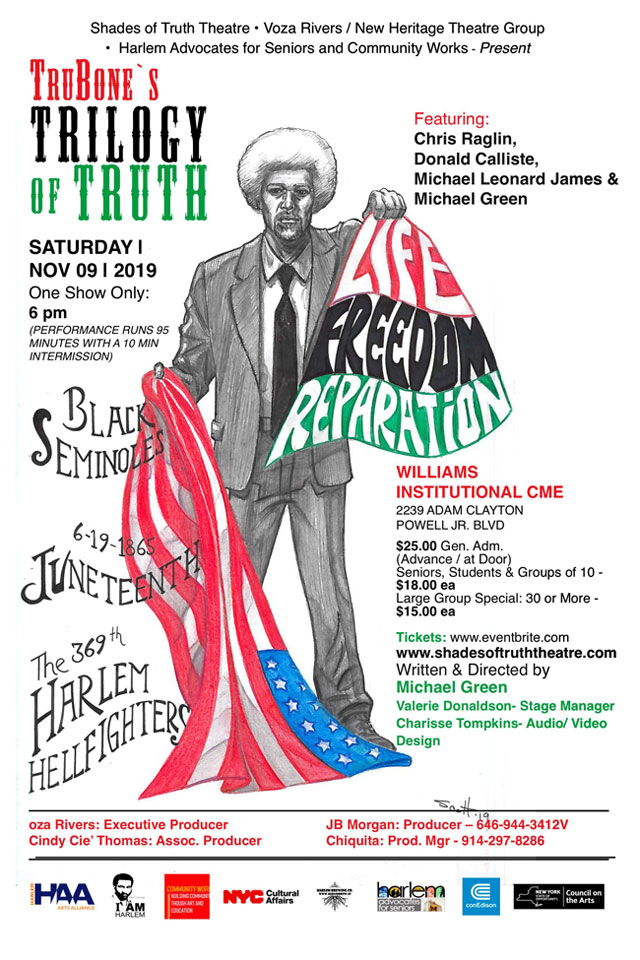 TruBone's
TRILOGY OF TRUTH

THE HARLEM HELLFIGHTERS: The Greatest American Heroes of WWI
LEGEND OF JOHN HORSE: The Black Seminole
JUNETEENTH: The People Freedom Forgot
Saturday, November 9, 2019
One Show Only: 6 pm
@ WILLIAMS INSTITUTIONAL CME
2239 ADAM CLAYTON POWELL JR. BLVD
Written & Directed by:
MICHAEL GREEN
JB MORGAN, Producer
CINDY CIE THOMAS: Assoc. Producer

VOZA RIVERS: Executive Producer
Featuring:
Chris Raglin, Donald Calliste, Michael Leonard James & Paris Campbell
Valerie Donaldson (Stage Manager)
Charisse Tompkins (Audio / Video Design)
$25.00 General Admission (Advance / at Door)
Seniors, Students & Groups of 10 - $18.00 ea; Large Group Special: 30 or More - $15.00 ea
Youth and Children (Under 18) GET IN FREE!
Contact:
Chiquita McCullough, Production Manager: 914 297 8286
(Performance runs 95 minutes with a 10 min Intermission)

This email address is being protected from spambots. You need JavaScript enabled to view it.This email address is being protected from spambots. You need JavaScript enabled to view it.