SHADES OF TRUTH THEATRE

&

VOZA RIVERS/NEW HERITAGE THEATRE GROUP

HARLEM ADVOCATES FOR SENIORS

THE GREATER HARLEM CHAMBER OF COMMERCE
Present A Pre-Production Staged Reading of
WHEN GOLD TURNS BLACK
Written by Ron Wilks with Lawrence Winslow
Directed by Count Stovall
Produced by Michael Green
Monday November 26, 2018
7:30 pm
Williams Institutional CME Church
2239 Adam C Powell Blvd between 131st - 132nd
$10 Minimum Donation Requested
Dear Friends & Supporters
We invite you to a dramatic staged reading that revisits 1968 when two Olympians Tommy Smith and John Carlos displayed their activism by raising their fists as they were awarded their Gold and Bronze Medals for the 200 Meters.
Voza Rivers/Jamal Joseph
New Heritage Theatre Group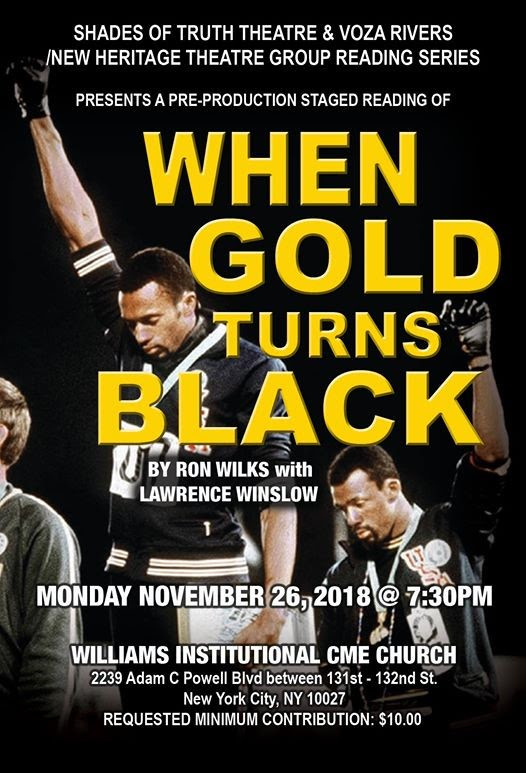 The social unrest of the late 1960's coupled with the assassination of Dr. Martin Luther King Jr sent shock waves of fear and hopelessness throughout the Country. It fueled resentment and resolve and gave birth to the black revolutionary. Tommie Smith and John Carlos are both heralded world class sprinters bound for Olympic glory but are fed up with systemic racism and the mistreatment of black Athletes. The two men make a solemn decision to use the world's largest stage to make a profound statement. Their powerful gesture defined a movement and inspired generations. This is their story.
This program is supported in part by public funds from the New York City Department of Cultural Affairs in partnership with the City Council, New York City Council Speaker Corey Johnson, New York, City Council Member Bill Perkins, City Council Member Mark Levine, The New York City Council Committee on Cultural Affairs, Libraries and International Intergroup Relations, Jimmy Van Bramer, Chair, NY State Council on the Arts, with the support of Governor Andrew Cuomo & New York State Legislature, NY State Assemblywoman Inez E. Dickens, NY State Senator Brian Benjamin, Gale Brewer, Office of the Manhattan Borough President,
The Greater Harlem Chamber of Commerce, CB 10 Arts & Culture Committee,
Community WorksNYC, and Con Edison